Meet Gift Planning Donors
We thank all our gift planning donors for their generous support. Here is a sample of gift planning donor stories.
Dad Finds Unexpected Joy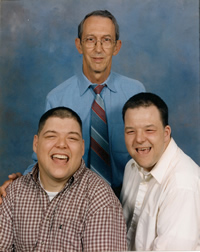 Gene Presson saw the difference in his sons instantly. "People don't realize how important a sense of accomplishment is. They take for granted what it means to a person, the impact of receiving praise for a job well done. It can make all the difference."
Both of Gene's sons have intellectual disabilities and when they joined the local Special Olympics bowling team, the change was immediate.
They seemed more confident. They had gained a new sense of purpose and they looked forward to every outing. Gene decided he wanted to learn more and check out Special Olympics for himself.
Gene went to the Summer Games 'just to observe', but by the end of the day, he was so overwhelmed watching all the dedicated volunteers, it inspired him to get involved. He decided, "I needed to do something and it motivated me to start volunteering."
Gene took up downhill skiing along with his boys and volunteered as an instructor's aid. One of his favorite memories was of the Winter Games. Gene recalled, "To this day I still get emotional remembering my youngest son standing on the medal platform and crying with joy."
What better gift can you give?
When the time came to update his estate plans, Gene said "Both of my sons gained such a sense of pride through Special Olympics, it was automatic to designate a portion of my estate to Special Olympics."
Gene chose to include Special Olympics as a beneficiary of his will. He set it up so that certain percentages will go to his family and then a portion of the remainder will go to Special Olympics.
Gene has experienced first-hand the life-changing impact of our mission, "Knowing what my boys have gotten out of Special Olympics, and seeing what other participants get out of it—the joy on their faces over their accomplishments—is such a tremendous reward, this must continue."
When asked what he would say to someone who was debating whether or not to include Special Olympics in their own plans, Gene said, "Just do it! It's a gift that will bring such joy and accomplishment to so many people's lives in the future. What better gift can you give?"
Passion At Work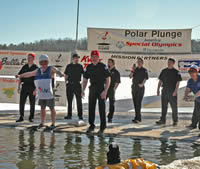 Gary Karner (in helmet) about to participate in Polar Plunge
Gary Karner has always been a passionate participant and supporter of athletics. While working at the National Collegiate Athletic Association (NCAA), he was asked to help recruit staff—game officials, timers and scorers—for a Special Olympics basketball tournament.
Gary was struck by how easy this task was as so many of his friends and colleagues were former athletes who were more than willing to volunteer their time and provide expertise to the event. That event made a lasting impact on Gary — one he would never forget.
Years later, as Wisconsin Intercollegiate Athletic Conference Commissioner, Gary was asked to award medals at the Special Olympics Wisconsin Summer Games. It was there, where he saw and experienced the powerful impact of Special Olympics firsthand, that Gary became determined to do more. He ultimately joined the board of Special Olympics Wisconsin and made a planned gift to support Special Olympics in his estate plans.
Like so many of our donors, Gary doesn't have any family connections to Special Olympics. But he does have a passion for athletic competition and the lifelong benefits it can provide.
Gary sees his planned gift as an honor. He shared, "I truly consider it a privilege to have the opportunity to contribute to the success of Special Olympics and to experience firsthand the positive impact Special Olympics has on the athletes and their families, both on and off the field of competition."
Including Special Olympics in his estate plans was an easy decision for Gary. "Since it had always been a goal of mine to leave this world a better place than what I found it, it was easy to designate Special Olympics in my estate plan. I chose Special Olympics because I wanted to help ensure that the mission of Special Olympics will endure for many years to come."
Like most of our donors, Gary was thinking long-term when he made his gift. "While I remain hopeful that Special Olympics will not be collecting these funds anytime soon, I now have the satisfaction and comfort of knowing that when my time comes, my passion for sports and my efforts on behalf of Special Olympics will live on."
A Place in Her Heart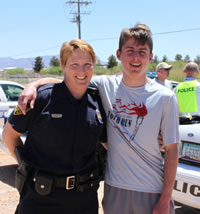 Officer Tracy Grady first got involved with Special Olympics through the Law Enforcement Torch Run with her fellow officers. Before long she was attending events, volunteering and raising funds for the organization. But she wanted to do more.
Hooked on Special Olympics
Tracy had been familiar with Special Olympics from a young age. "I was fortunate to watch Special Olympics develop throughout my life. I have always had a place in my heart for those with special needs and feel they are the most deserving." But it wasn't until she got involved in the Torch Run that she started to participate in Special Olympics events.
Law enforcement officers have a long history of supporting Special Olympics. The Law Enforcement Torch Run is a signature running event where officers carry the Flame of Hope to the opening ceremonies of the local, state, national and global Special Olympics events. Tracy participated in her first Torch Run back in 2008.
After the Torch Run, Tracy was encouraged to attend other Special Olympics events through her local Program and soon found herself volunteering as a basketball coach. She was hooked.
Tracy began to see first-hand the benefits of participation in Special Olympics programs. In her words, "Special Olympics empowers athletes to be more social and helps them become more comfortable with their abilities. By seeing their acceptance within society, Special Olympics athletes gain a new understanding of themselves."
Little did Tracy know that shortly after she started volunteering for her local Special Olympics Program, her own niece would be diagnosed with an intellectual disability. Tracy says she thinks Special Olympics would be a wonderful help to her niece: "It would help her gain self-confidence. She has always struggled to integrate into society, and I believe that participating in Special Olympics would allow her to do so, and in a more meaningful way."
Legacy of Acceptance
Through her years of participation and personal connection, Tracy decided to include Special Olympics in her will. "I want my estate to contribute to the welfare of improving people's lives, so that they can experience the joy of receiving a medal, the camaraderie of team sports, and get needed health care. If I achieve that, then I have left an indelible mark on society."
Like Tracy, you too can make a powerful, lasting impact on future generations of athletes that costs nothing during your lifetime. Anyone can give a gift through their will, and when you include Special Olympics in your estate plan, you create a legacy of acceptance, inclusion and hope for all people with intellectual disabilities far into the future.
Special Olympics Athlete Supports Future Generations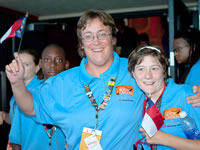 Kristine Hughes has worn a lot of hats in her lifetime—firefighter, Navy sailor, athlete, student, coach, and now, a member of our planned giving recognition group, The Champion's Society.
Growing up, Kristine loved outdoor sports like tennis and softball, but she knew she was different. "All while I was growing up I knew I had a disability and I got really tired of people telling me I couldn't do things."
She was first introduced to Special Olympics when a friend invited her to a basketball game. There she was able to meet other athletes with disabilities, and after that, she was hooked.
"Special Olympics has made a huge difference in my life" says Kristine, "I have competed both regionally and nationally. It has given me confidence, especially when I speak to others. It even gave me the confidence to become a coach—something I never thought I would do!"
Recently Kristine chose to include Special Olympics as a beneficiary of her life insurance plan. She said, "It was so easy, and cost me nothing! I just told them [the administrator] that I wanted to do a specific amount for my Godparents, Special Olympics and another charity. They said 'Okay' and it was done."
When asked what lessons she would like to pass on to future athletes, Kristine answered, "Look at all the things I've done. I want to encourage athletes to go for their goals. I want people to say, She went for her goals and achieved them."
Going the Extra Mile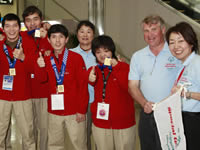 Steitz is pictured here second from far right with SO Japan athletes
Charles "Chip" Steitz's first encounter with Special Olympics was at the 1979 Special Olympics World Summer Games in Minneapolis/St. Paul, Minnesota. Chip went the extra mile then, as he has ever since in service to children and adults with intellectual disabilities -- he helped raise critical funds from friends and family and volunteered his time to ensure a safe, quality athlete experience at those Games.
When Chip arrived in Okinawa, Japan in 1999, he volunteered at the Air Force's Office of Public Affairs on Kadena Air Base. During his 1,600 hours of volunteer work, he became deeply involved in creating a Special Olympics program with the 18th Wing Commander and, in 1999, as an avenue to build relations with neighboring communities and local government representatives while providing a meaningful outlet for children and adults with intellectual disabilities, Special Olympics Kadena was born.
One hundred children and adults with intellectual disabilities competed in Special Olympics Kadena's first Games. A decade later, Chip is thrilled to share that over 1,300 athletes are now participating, showing the world what they CAN do! Each year Chip raises $60,000 in an effort to increase the number of athletes and year-round activities, and promote Special Olympics throughout the Ryukyu Islands. Why he is so committed to Special Olympics? "It's simple." he says. "It's the right thing to do!"
In addition to Chip's tireless efforts and commitment to help teach acceptance, dignity and inclusion through sport, once again he went the extra mile and included Special Olympics in his estate plans. What motivates him to make a legacy gift to the organization? "Special Olympics has a clear vision. The organization attracts highly motivated, dedicated individuals who understand the importance of monitoring financial resources and how to best maximize limited monetary funds."
When we asked Chip what he would say to encourage others to join him in making a legacy gift to Special Olympics, he replied, "All of us are faced with challenges throughout our lives, but seldom do we get the opportunity to help ordinary people participate in extraordinary events, activities and programs. The spirit of Special Olympics is foremost one of joy, but also integrity, pride and respect. It is a spirit of acceptance that transcends social and political boundaries. It is a spirit that inspires us all.
Change A Community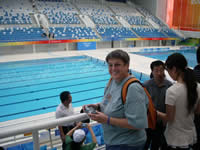 Kathryn Clark believes that Special Olympics "deserves the support of everyone." She not only makes annual contributions to the organization now, but she has made a bequest to support the next generation of Special Olympics athletes. Here's why, in her own words:
"As the only Special Education teacher in a very small mountain community in North Carolina, I had a self contained classroom of 20 students ranging in age from 6-21 and of all ability levels - one student was learning to drive; another was profoundly disabled - they ran the gamut. I had volunteered with Special Olympics while living in New Jersey, but had never actually tried to set up a program or coach, but I wanted something the entire class could succeed in doing. I contacted the state office, got the materials, and started out. Over the next few years the changes were enormous. The students really got into it - we started with athletics, and then added basketball. It was not only sports that changed - through Special Olympics they wrote experience stories, learned math, and were able to travel outside the county for the first time in their lives. Plus, the entire community got involved - students started working with the group on basketball skills; the school would get free time to come to the games; the parents were proud of their children - Special Olympics changed an entire community.
Since then I have worked with Special Olympics in the Caribbean and Africa, and it is always the same. At first everyone is skeptical - people with intellectual disabilities can't possibly compete in sports - and then the very people they called names, mocked, made fun of, become athletes! They compete, they win medals, and then slowly their communities, their families, their teachers begin to see them as achievers - as special for their incredible abilities.
I will support Special Olympics until the day I die, and with my legacy support via a simple bequest, I will continue to support this organization even after my death - it is a life altering organization that deserves the support of everyone."

A Couple Proves Anonymity Speaks Volumes
As Told to Connie Grandmason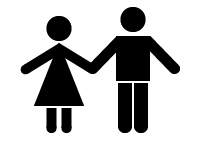 "We don't want any recognition or special attention." That's a comment I hear often from Special Olympics supporters who have included us as a beneficiary in their wills, of their retirement plan savings or other legacy gift. Maybe it's because they are worried they won't be able to keep their promise. But I really think it's because Special Olympics supporters are not after recognition—they just want to help. Of course, we honor requests to be anonymous because even donors who wish to remain anonymous can encourage others to follow their lead by permitting their story to be told. This is one of those stories.
He was a salesman and his wife was an elementary school teacher. Her classroom included children with and without intellectual disabilities. She says, "My husband was upset that the system would put what he thought then was a burden on me and other teachers. After meeting many of those special needs students and seeing how they taught us all more about ourselves than we could ever imagine, and how capable they were if given a chance, he was a changed man. Never again did he view people with intellectual disabilities as a burden. They are a blessing to us all," she told me.
When their youngest child died suddenly, the couple immersed themselves in volunteer service to help cope with their grief. "We thought it would be best to help others to take the focus off of our pain. It isn't easy but it has helped us so much," they said.
They volunteer at Special Olympics day of event activities and through another organization he takes adults with intellectual disabilities on fishing outings. He loves it.
"We're modest, hard-working people who have lived a simple life. After we're gone (which we hope will be many, many years from now!) we want to do even more than we could in life to help others," she said. That's why they have made a provision for Special Olympics in their will?
They want their gift to be invested by Special Olympics with the earnings used in perpetuity to give future generations of individuals with intellectual disabilities a chance at a better life through sport.
If you have already included us in your plans, please let me know. To find out how you, too, can leave a lasting legacy, call toll-free at 1(866)690-3951 or email plannedgiving@specialolympics.org